Blog
Epistolary Imagery in Early Modern Paintings – Part II: Genre and History Paintings
This is the second part of our series on early modern paintings featuring letters. The first part, about portraits, can be found here.
Letters became a particularly popular theme in Dutch genre paintings, or genre scenes. Genre paintings depict scenes from every day life. Those with letters commonly portray a person in a domestic setting writing or reading a letter – often with an accessory figure, such as a friend, or a servant or postman delivering a letter, or waiting to take it away. Over time these accessory figures became increasingly rare, possibly because the love letter became a popular subject of genre painting. This emotion, not seldomly expressed by erotic symbols, was regarded as a private matter and such letters were obviously opened and read without spectators.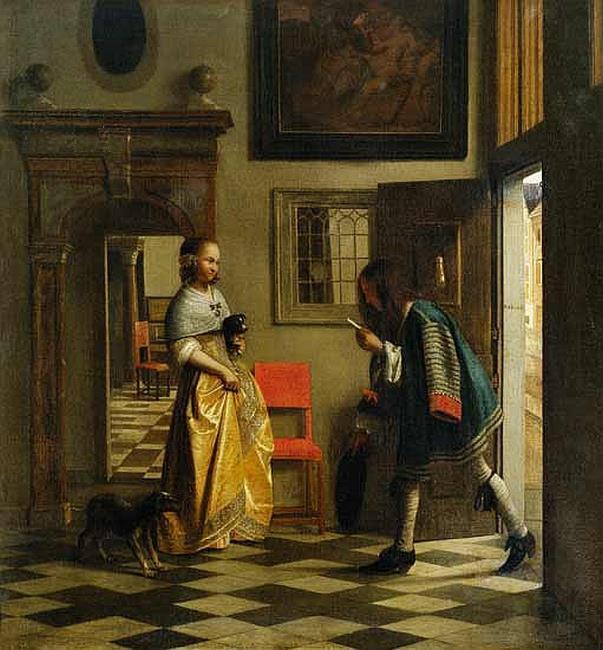 Young Woman in an Interior, Receiving a Letter (c.1670), by Pieter de Hooch
So the depiction of letters is not just reserved for paintings with scholars in them, but refers to epistolary culture in general – although there are, of course, also genre paintings portraying men of learned professions in their study holding letters, such as lawyers and apothecaries: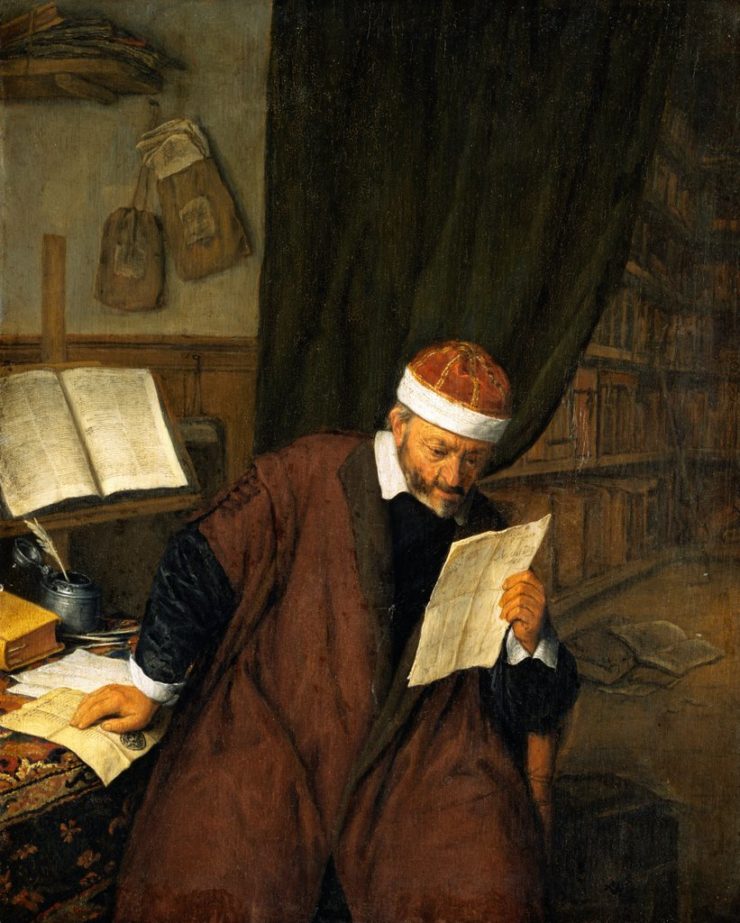 A Lawyer Seated at a Desk Reading a Letter, by Adriaen van Ostade
History Painting
Genre painting is closely related to history (in the original sense, meaning 'story') painting, which depicts a moment in a narrative story or a specific action instead of a static subject. The important difference, however, is that history paintings do not show everyday life, but they tell grand stories. Their subjects are taken from the Bible, classical mythology, or historical events. Letters do not often occur in history paintings, but when they do they are not depicted randomly but as part of a decisive turn in the story, such as in this scene in which Christina Gyllenstierna, a Swedish resistance leader against Christian II of Denmark, receives a letter of amnesty after her capitulation: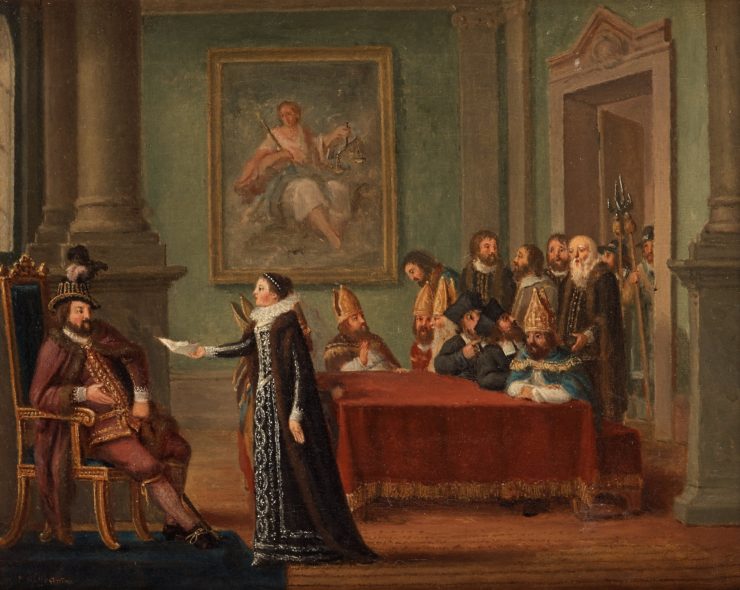 Christina Gyllenstierna with the Letter of Safe Conduct before Christian II, by Pehr Hilleström
Comparable to the sometimes vague boundaries between genre paintings and portraits, it can be difficult to distinguish between genre paintings and history paintings. For people who are less knowledgeable about biblical, mythological and historical themes, or who are unable to understand the symbols used in such paintings – and that increasingly holds for us, modern viewers – it can be difficult to recognise the stories told. Also, sometimes scenes are depicted in a contemporary setting. For instance, this Biblical scene, by Jan Steen, of Bathsheba receiving a letter from King David: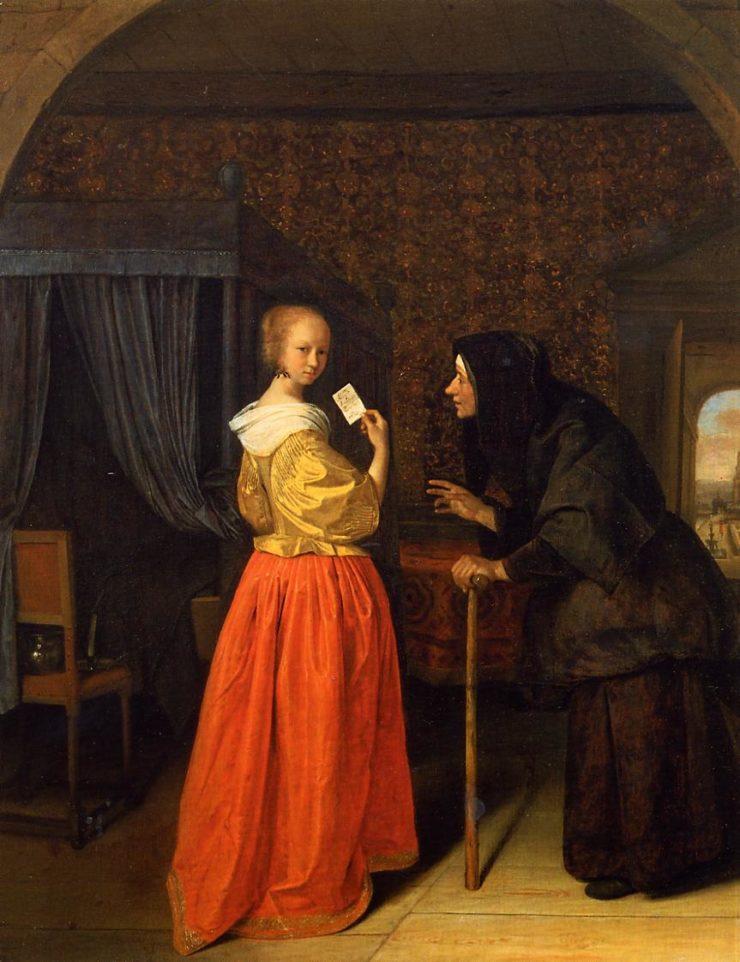 Bathsheba Receiving David's Letter (c.1656-1660), by Jan Steen
Domestic settings
Above all, the epistolary theme is an expression of the fashion for letters in the early modern period. The rise of the use of letters in genre paintings coincided with that of the depiction of women in the bourgeois homes that were their domain. Letters contributed to the modern and fashionable image of these women. Whilst the depicted in portraits almost always are the typical 'men of letters', in genre paintings letters often occur as an attribute of well-dressed ladies in sumptuous interiors.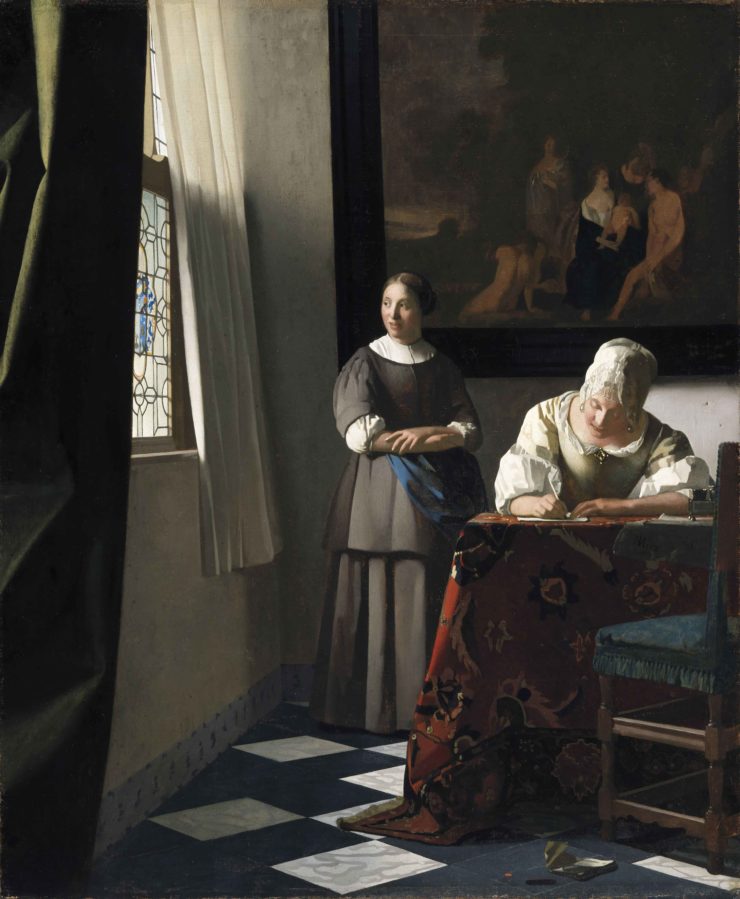 Lady Writing a Letter with Her Maid (c.1670-1671), by Johannes Vermeer
Occasionally one also finds other high-society scenes, such as a military officer in the field writing a letter to his lover, but Dutch paintings also depict rural scenes featuring letters, which underlines the widespread literacy in the seventeenth-century Dutch Republic: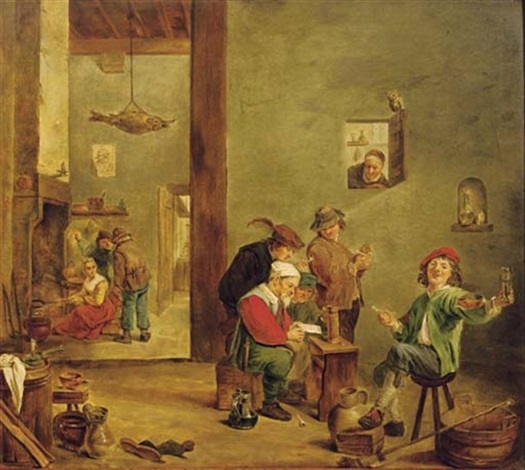 Peasants Reading a Letter, Drinking and Smoking in an Inn, Figures by a Fireplace Beyond, in the manner of David Teniers the Younger
In portraits letters functioned as an attribute of learning that advertised the literary status of the sitters. In genre paintings, however, the people depicted are anonymous and the letters not only act as a fashion statement, but also convey symbolic meanings. They are almost always a symbol of love. This fashion was started in the early 1630s by Dirck Hals, one of the pioneers of genre painting. He has the reputation to have been the first to depict women reading letters in domestic interiors. In his Woman Tearing a Letter the tearing-up functions as a warning for love: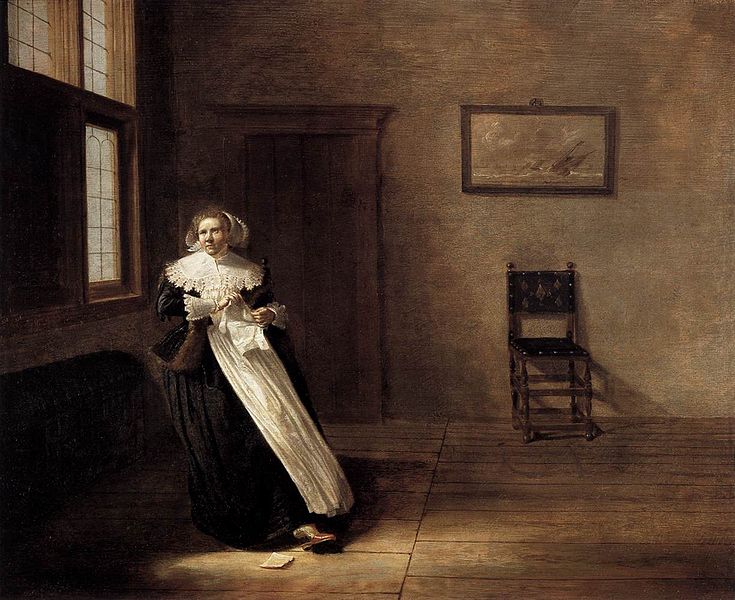 Seated Woman Tearing a Letter (1631), by Dirck Hals
The popularity of the love letter theme played a central role in the shift, around the middle of the seventeenth century, from scenes of the daily life of common people to that of the upper class, particularly of women. Other painters associated with the genre of the love letter are Gerard ter Borch the Younger, Frans Van Mieris, Gabriel Metsu, Caspar Netscher, Aert van der Neer, Johannes Vermeer (see his Lady Writing a Letter with Her Maid above), Jan Steen, and Pieter de Hooch (see his Young Woman in an Interior, Receiving a Letter above). Their paintings of women – and men, for that matter – reading, writing, receiving and dispatching letters would become the model for painters in the rest of Europe, especially in France.
For those who want to see more examples of genre paintings involving letters, see our gallery. More about love letters in the next blog about epistolary imagery in early modern paintings.
Further reading
Dena Goodman,

Becoming a Woman in the Age of Letters

, Ithaca/London: Cornell University Press, 2009, esp. pp. 19-59.

Daniela Hammer-Tugendhat, The Visible and the Invisible: On Seventeenth-Century Dutch Painting (transl. Margarethe Clausen), Berlin/Munich/Boston: De Gruyter, 2015, esp. pp. 219-257.

Peter C. Sutton et al.,

Love Letters: Dutch Genre Paintings in the Age of Vermeer

, London: Frances Lincoln Limited, 2003.