Blog
Retracing the 'Grand Tour' of Anna Maria van Schurman's Letters
Referring to the 17th- and 18th-century practice of mainly upper-class males' trips around Europe, the 'grand tour' functioned as an educational rite of passage. During Anna Maria van Schurman's life this custom was particularly popular among male students who would often travel with a letter of introduction or recommendation from a more well-known scholar. This letter would function as an important networking tool, assisting young scholars to build up a correspondence network of their own.
Though Anna Maria van Schurman never completed a 'grand tour' of her own, her signature can be found in many of the alba amicorum (scrap books containing contributions from scholars, poets and artists encountered along the way) kept by the Koninklijk Bibliotheek in The Hague. In terms of networking, one could argue that the practice of writing letters functioned in much the same way. By way of recommendation letters from Utrecht professor – and the van Schurman's neighour – Gisbertus Voetius, Anna Maria van Schurman was introduced to scholars such as André Rivet and Frederik Spanheim (both theology professors at Leiden University). Consequently, Anna Maria van Schurman built up an impressive scholarly network of her own, including regular correspondence with Constantijn Huygens, Johan van Beverwijck, Andreas Colvius, Claude Saumaise, Daniel Heinsius and Pierre Gassendi. She became known as 'the star of Utrecht' and corresponded with similarly renowned learned women such as Antoinette Bourignon, Bathsua Makin, Dorothy Moore and Anne de Rohan. Van Schurman also acted as a mentor for Princess Elisabeth of Bohemia and advocated eagerly for women's education.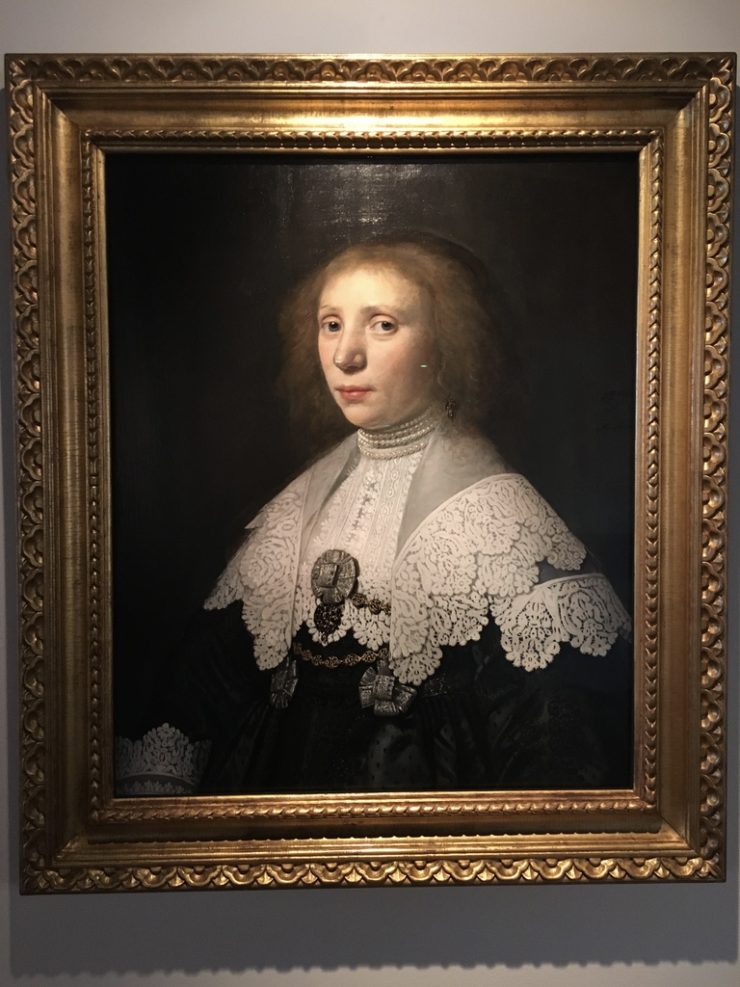 Portrait of Anna Maria van Schurman by Michiel Jansz. Van Mierevelt en Jacob Willemsz. Delff III, 1637-8 (Museum Martena, Franeker)
As part of a three-month research internship with SKILLNET, it has been my pleasure to produce a catalogue of this correspondence network, which has just been published on Early Modern Letters Online (EMLO) In a way, the research led to my own 'grand tour' of the Netherlands as it entailed going from archive to archive, recording the physical manifestations of van Schurman's remaining letters and differentiating between autograph letters, copies and print editions.
Starting close to home, a meeting with Dr Pieta van Beek (the leading expert on the life and works of Anna Maria van Schurman) in a small café now situated in van Schurman's former home behind the Dom, brought van Schurman's life and significance into clearer focus. In a serendipitous wink to the past, van Schurman's former home, which hosted Queen Christina of Sweden, now serves up Swedish fika for Utrecht's visitors.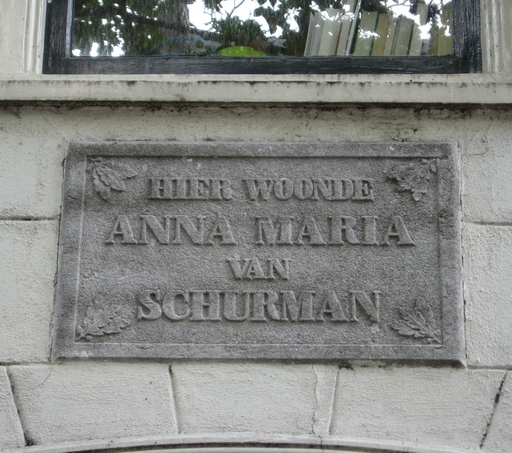 Plaque commemorating Anna Maria van Schurman's residence in the house 'behind the Dom'
Beginning with the special collections of Utrecht University library, my archival research brought me into contact with a collection of copies made by Arnoldus Buchelius of his own correspondence with Anna Maria van Schurman, alongside various other learned men and women. From there visits to the special collections at the University of Amsterdam and Leiden University led to my first encounters with van Schurman's autograph letters. The real treat came during a visit to the Koninklijk Bibliotheek in The Hague where I got to work with a bound manuscript of 74 autograph letters between van Schurman and notables such as André Rivet, Constantijn Huygens and Marie du Moulin.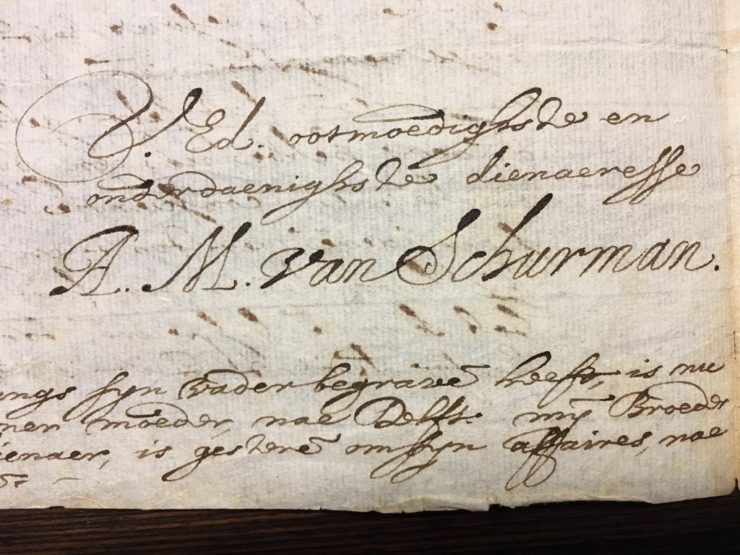 Anna Maria van Schurman's signature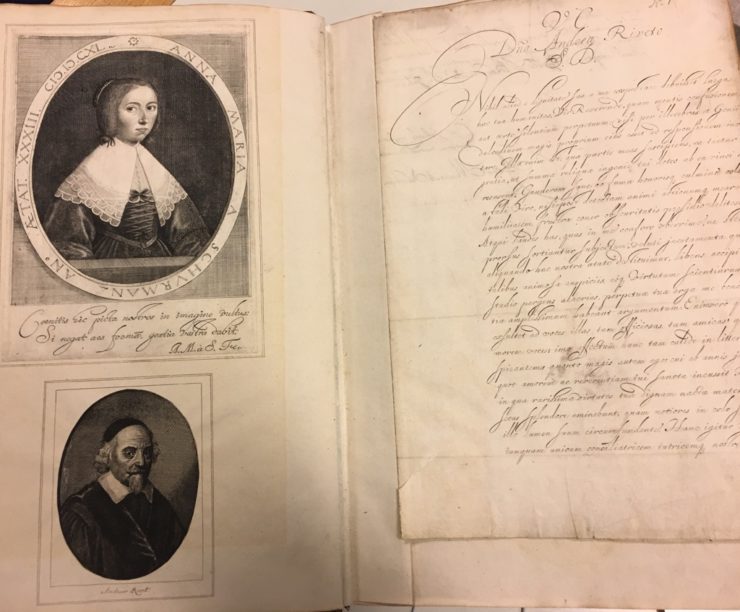 Koninklijk Bibliotheek Den Haag KW 133 B 8: A collection of 74 of van Schurman's autograph letters including this letter to André Rivet, accompanied by their portraits
Further afield, a two-day trip took me to the Tresoar archive in Leeuwarden, which holds letters from Anna Maria van Schurman to Philip Ernst Vegelin van Claerbergen (secretary to Willem Frederik van Nassau), and on to the Frisian town of Franeker, where Anna Maria van Schurman lived with her family between 1623 and 1626; now the Museum Martena in Franeker houses the only permanent exhibition on Anna Maria van Schurman's life. From Franeker a trip to the University of Groningen's special collections brought me into contact with an unpublished Dutch letter from van Schurman to Johannes Isaci.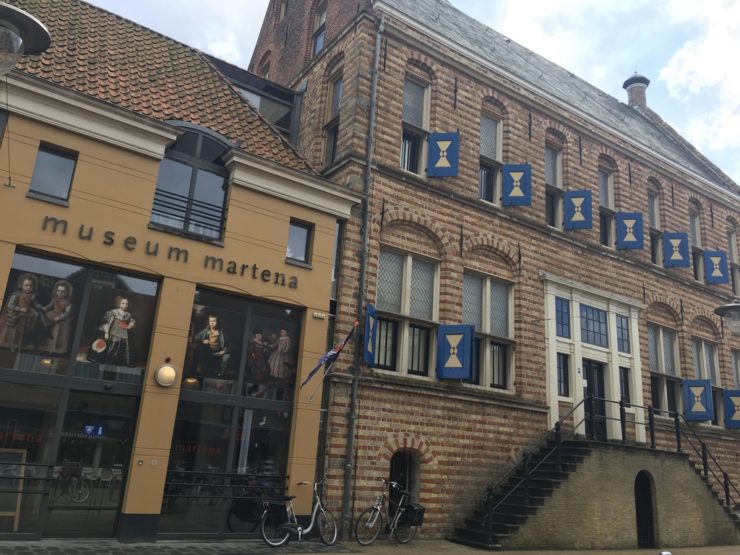 Museum Martena in Franeker
As for the broader European aspect of van Schurman's 'grand tour': records of autograph letters to and from Van Schurman have shown up in the British Museum, in Nürnberg, Berlin, Hamburg and Basel. The work of Dr. Pieta van Beek has traced the location of copies of van Schurman's Opuscula Hebraea Graeca Latina et Gallica across major European libraries – from London, Paris and Vienna to libraries across the United States and as far north as Trondheim and Ostersund. Anna Maria van Schurman may never have physically visited these places, but the circulation of her work and fame, as well as the scope of her correspondence network, constituted a 'grand tour' of their own and cemented her status as a leading scholar of her time.
Click here to see the catalogue on EMLO.
Click here for Miranda Lewis' blog on EMLO about this catalogue.
Also see this news item on the website of Utrecht University about the publication of the catalogue and for a short documentary about Anna Maria van Schurman.
Dirk van Miert was on the Dutch radio programme Nieuws and Co to talk about Anna Maria van Schurman and her network.